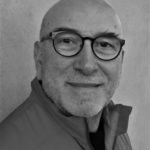 Dans une autre vie, j'ai été tour à tour ajusteur dans la sidérurgie puis auteur-compositeur-interprète.
Il y a une trentaine d'années, j'ai décidé de changer d'avenir.
Après les mots de mes chansons, j'ai abordé un autre moyen d'expression, la peinture, en complet autodidacte.
Après le groupe et les concerts, j'ai choisi la solitude de l'atelier que j'ai construit moi-même dans le jardin.
C'est là mon quotidien, c'est là que je me sens libre et apaisé.
J'utilise une peinture industrielle, noire, agrémentée de pigments ou de bitume. Pas de pinceaux ni de dessins préalables, pas de toiles non plus. Je travaille uniquement avec des spatules sur du papier glacé que je maroufle ensuite sur du bois.
Durant toutes ces années j'ai exploré de nombreuses pistes d'où la grande diversité de mes créations. Leur unité, c'est ma technique.
La Lorraine industrielle où j'ai grandi a inspiré mes textes et mes musiques. Son passé aujourd'hui révolu inspire encore mon imaginaire qui se nourrit autant de l'Histoire que de l'actualité, du réalisme que du fantastique mais toujours de façon décalée. Il puise aussi dans l'univers des musiques qui m'accompagnent en permanence, de Robert Johnson à Bob Dylan, en passant par Marc-Antoine Charpentier et Keith Jarret pour ne citer qu'eux.
In a previous life, I began as a metal worker in the steel industry and went on to become a singer-song writer.

Thirty years ago, I decided to change my future.
After the lyrics of my songs, I turned to painting as another means of expression and taught myself all I know.
After the group and the concerts, I chose the solitude of the workshop that I built in the garden.
That is where I spend my days and that is where I feel free and at peace.
I use industrial paint, black, tinged with pigments or tar. No brushes or draft sketches, no canvas either. I work exclusively with spatulas on glossy paper which I then mount onto wood.
In all these years, I have explored many different pathways which is why my crea-tions are so diverse. Their unity is my technique.
Industrial Lorraine where I grew up was the inspiration for my lyrics and music. Its history, now long gone, still inspires my imagination that is nourished as much by History as by current events, as much by realism as by fantasy, but always in a shifted manner. My inspiration also comes from the music 

that always accompanies me when I work.
From Robert Johnson to Bob Dylan, from Marc-Antoine Charpentier to Keith Jar-ret, and many others.